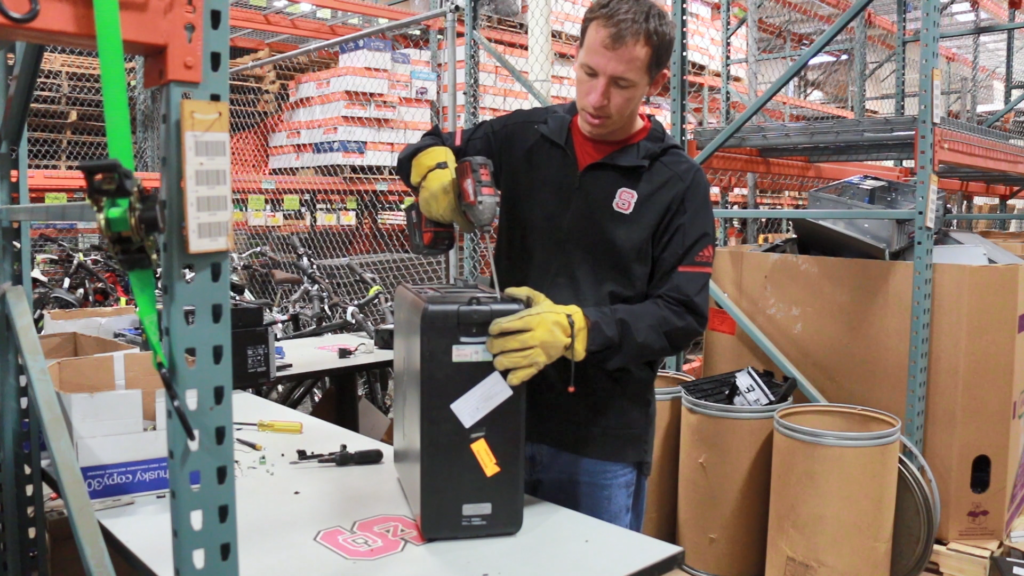 Each year at NC State, thousands of computers, monitors, copiers, fax machines, printers, mobile phones, TVs and other electronic items become obsolete, no longer integrate with other systems or no longer function properly. Rapid advances in technology also accelerate the generation of old electronic equipment, commonly referred to as e-waste. The result is a growing challenge for the campus community to reuse, recycle, repurpose or responsibly dispose of this equipment.
In 2018, Procurement & Business Services (P&BS) and Waste Reduction & Recycling (WRR) partnered to establish an electronics recycling program that offsets the cost of compliantly handling electronic products nearing the end of their useful life. Yellow e-recycling bins are available outside of every campus building, and pick-ups can also be scheduled through Surplus Property Services, which is a department within P&BS.
Surplus has a robust collection and processing effort that last fiscal year diverted 105 tons of electronic waste from entering landfills.
The team's first priority is to refurbish electronics that can be resold on campus, to other state agencies or at public sales. Even if a product in its entirety is not longer useful, the team will retain and repurpose valuable components, such as solid state drives, RAM and video cards.
Some discarded electronic products present environmental hazards if not managed correctly. The Surplus team ensures compliance with state laws established to responsibly manage the disposal of electronic material.
The recovery, repurposing and resale of electronics at NC State has not only removed tons of e-waste from the landfill but has also generated funds to make this a self-supported initiative, which guarantees the sustainability of e-waste recycling efforts for years to come.
October 14, 2021 | Carla Davis — as seen on the SO website