Before you buy, be sure to consider the following questions…
University credit and purchasing power has been granted to you to make purchases for official business use only. Always ask if the purchase is necessary, appropriate for the need, and if there are existing supplies that would meet the need. The purchase of personal items with university funds is never appropriate.
The MarketPlace provides items at the lowest overall cost. Lowest cost is more than just the price of your item. It includes the cost of time spent searching for the item, processing the order, traveling to get the item, processing the invoice(s) for payment, etc.
What is a HUB supplier?
HUB is a supplier classification that denotes Historically Underutilized Businesses. The State of North Carolina HUB office qualifies the suppliers based on the criteria listed in Statute 143-128.4.
How do I search for a HUB supplier?
To locate alternate sources of supply:
Navigate to the State of North Carolina Department of Administration website and click on Vendors.
Browse vendors by HUB Certification Status.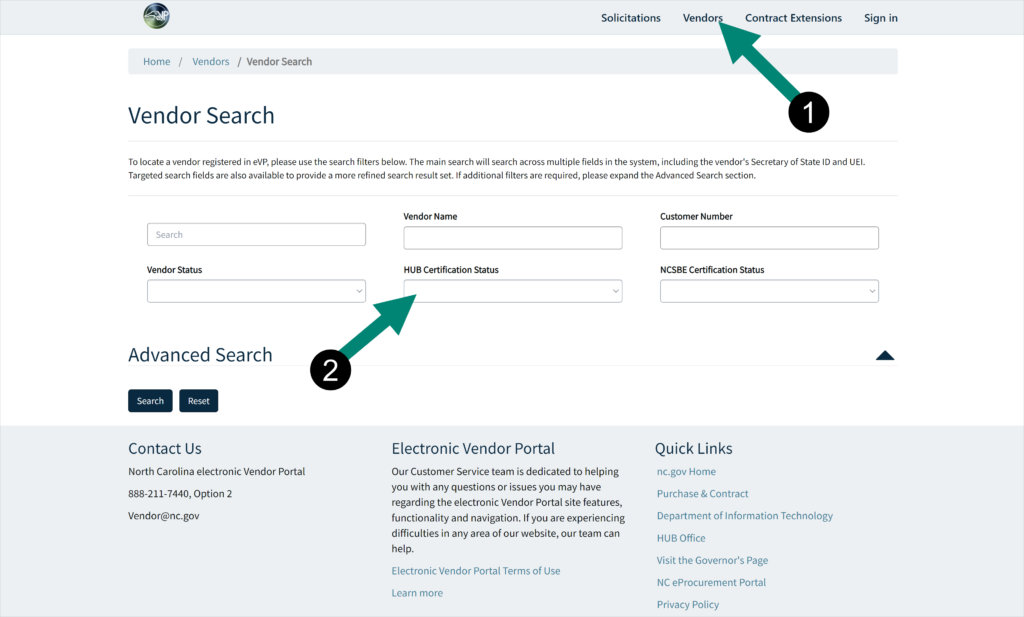 For more information on the HUB program, please visit the HUB office website.
Many state contracts and convenience agreements are available for use that have been competitively bid and generally offer the best pricing and terms. Convenience agreements are optional and contracts must be used if the price being offered is the lowest price. For more information on agreements and contracts, visit the Contract Purchases page.
There may be restrictions on what can and cannot be purchased on certain types of fund sources (i.e. state appropriated, federal or agency funded). Visit the Spending Guidelines for more information.
Any onsite service requires suppliers have the appropriate insurance coverage. This also applies to charter bus service providers. Please find the appropriate insurance requirements specifics here.
When making a purchase, it is important to consider the effects of the item or service on the environment. Can the purchase be avoided by using existing items? Can an appropriate item be obtained from surplus? When making a purchase, look for recycled content, energy-efficiency, and type of packaging.
The university is committed to complying with the ADA. With every purchase it is important to consider options that would accommodate the needs of individuals with disabilities. For example, videotapes, DVDs, or any other visual aid for classroom instruction that provides "closed captioning" for the deaf or hearing impaired should be purchased over those that do not have this option.
For every purchase, you want to ensure that you are paying the best overall price for an item or service. In general, you will receive the best overall price using the MarketPlace or negotiated state contracts or convenience agreements. Shipping costs must be included in total cost of your purchase.