Disposition of Tagged Vehicles
In order to dispose of a tagged vehicle, please follow these steps:
Enter a Surplus Request:

Navigate to the Financial System: login to MyPack Portal>Main Menu>Financial System>Assets & Surplus>Surplus Request.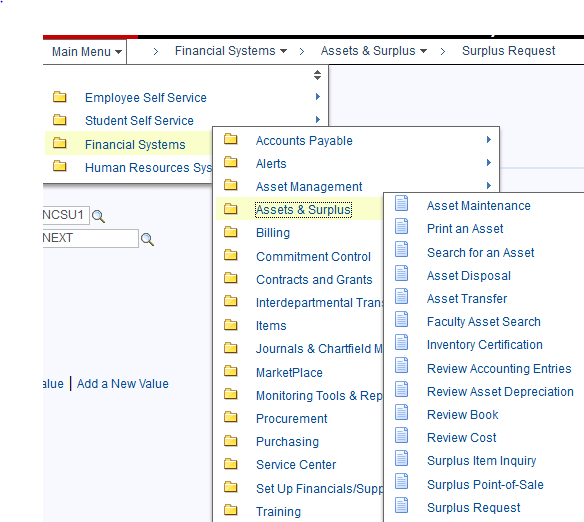 On the 'Add a New Value' tab click ADD.

Enter the following information:
Field
Instructions
Location
Enter the building number found on the campus map
Click 'Look up', to select the correct building and room number combination
Surplus Action
Select vehicle
Project
Enter the project ID to be refunded when the items are sold
Comments
Enter comments about the sales location 'As Is Where Is' or 'Delivered' if planning to deliver to the Department of Administration (DOA) Warehouse. Enter comments about the operational status and physical condition of the motorized equipment
Quantity
Enter the number of vehicles, normally one per line
Lot Exists
Do not check
Description
Enter make, model, color and year of the vehicle
Item Category
Select 'Vehicles and Trailers' –Titled
Serial #
Enter the vehicle or equipment serial number
Asset Tag #/CAMS #
Enter the CAMS number
Condition
Select a description of the physical condition
Additional paperwork required:

Print and sign the Surplus Request Form. See sample.
Print and complete the Odometer Disclosure Statement and Check List Vehicle Forms.
Bring hard copy originals of the forms to the Materials Support Warehouse at 3240 Ligon St., Building 161 on the campus map.
Email at least three pictures of the vehicle, if selected 'As Is Where Is' to surplus@ncsu.edu.
If selected "As Is Where Is" please provide physical address of vehicle, contact name, contact phone number.

Navigate to the eRIMS site and complete the notification for Risk Management.

All vehicles carry insurance through the NC State Risk Management Office.

Wait for the confirmation email from the Surplus Property Office before delivering the vehicle to the State of North Carolina Department of Administration Surplus Warehouse, 6501 Chapel Hill Road, Raleigh NC 27607.