Disposition of Non-Tagged Vehicles
In order to dispose of a non-tagged vehicle, please follow these steps:
Enter a Surplus Request:

Navigate to the Financial System: login to MyPack Portal>Main Menu>Financial System>Assets & Surplus>Surplus Request.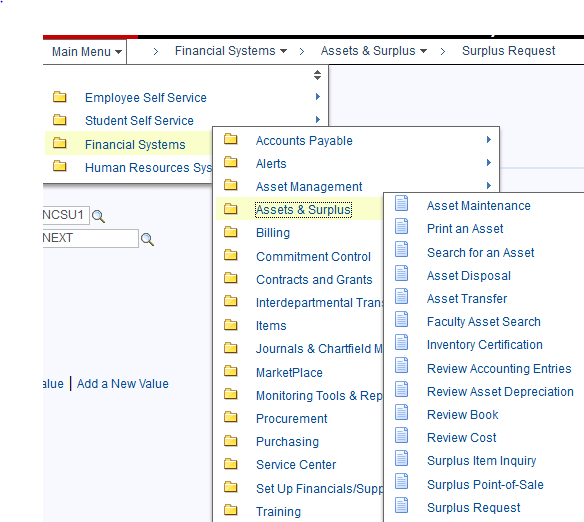 On the 'Add a New Value' tab click ADD.

Enter the following information:
Field
Instructions
Location
Enter the building number found on the campus map
Click 'Look up', to select the correct building and room number combination
Surplus Action
Select "As Is Where IS" or "Delivered" or "Pick-up" depending on how the equipment will be handled
Project
Enter the project ID to be refunded when the items are sold
Comments
Enter comments about the operational status and physical condition of the motorized equipment
Quantity
Enter the number of vehicles, normally one per line
Lot Exists
Do not check
Description
Enter make, model, color and year of the vehicle
Item Category
Select the type of equipment that best describes the non-titled motorized vehicle
Serial #
Enter the vehicle or equipment serial number
Asset Tag #/CAMS #
Enter the CAMS number if one exists
Condition
Select a description of the physical condition
 Print and sign the Surplus Request Form. See sample.
Surplus Property Office will forward the signed Surplus Request Form to Risk Management to document the change in insurance coverage.
Navigate to the eRIMS site and complete the notification for Risk Management All vehicles carry insurance through the NC State Risk Management Office.