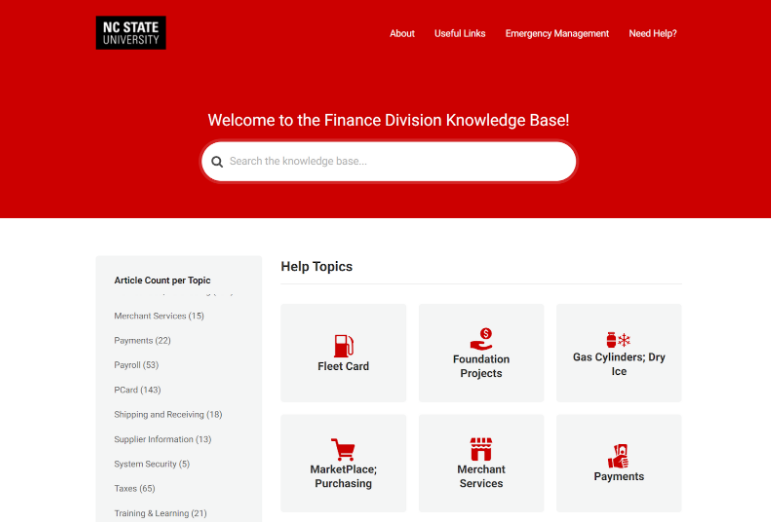 Over the last five months, the Finance Division Knowledge Base has had over 27,000 total views while averaging 4,500 single visitors and more than 4,700 searches every month. One of the most popular terms searched during this period has to do with Payments. More specifically, searched terms include:
Virtual Payables (or EPay, as it is also known)
Voucher Status
Payment Works
New Supplier registration
ACH
Procurement & Business Services makes purchasing from suppliers safe and efficient, especially when you shop the MarketPlace first! For non-MarketPlace purchases, figuring out the best way to pay suppliers is something the Finance Division Knowledge Base can help you with. For example,  the article "How are non-MarketPlace suppliers paid?" explains the three available payment mechanisms that are available at NC State for issuing payment to non-MarketPlace suppliers. These methods are as follows, in order of preference:
PCard: The Procurement Card (PCard) is a Visa corporate liability credit card used by approved employees for legitimate NC State University business purchases.
Virtual Payables: Virtual payables is an electronic supplier payment solution in which a supplier is provided a dedicated credit card for processing payments. 
Paymode-X: Paymode-X is a program that NC State is using to facilitate a transition from paper checks to electronic ACH payments.
While Virtual Payables is the preferred method of payment, participation is voluntary. If the supplier does not accept credit cards or chooses not to participate in the program, please contact: ncsu_epay@ncsu.edu.
Questions?
Check out the Card Services Website and the Virtual Payables Supplier Manual.